Welcome to Woodland Hills EMS
WHEMS proudly serves the residents of Braddock Hills, Chalfant, Churchill, Forest Hills and Wilkins Township.
---
Welcome Medic 343
Medic 343 is the newest addition to our fleet. It is equipped as an Advanced Life Support Ambulance. This ambulance is a 2014 Ford E450 with a LifeLine Box. Medic 343 has been officially licensed and is now on the streets.
---
Prepared for Pediatrics
The Prepared for Pediatrics program is a multi-phase recognition identifying EMS agencies that have established programs and standards to improve their capabilities to deliver care to children in emergencies. As part of the voluntary recognition, Woodland Hills EMS equipped all of its ambulances with additional pediatric-specific emergency equipment over and above what is required for a standard ambulance. Additionally, all EMS staff members are required to complete four hours of pediatric related continuing education each year, maintain certification in pediatric CPR and Pediatric Advanced Life Support, and facilitate education, injury prevention, and community outreach focused on children.
Woodland Hills EMS is certified at the "Expert" level, which is the highest level that can be awarded to a service.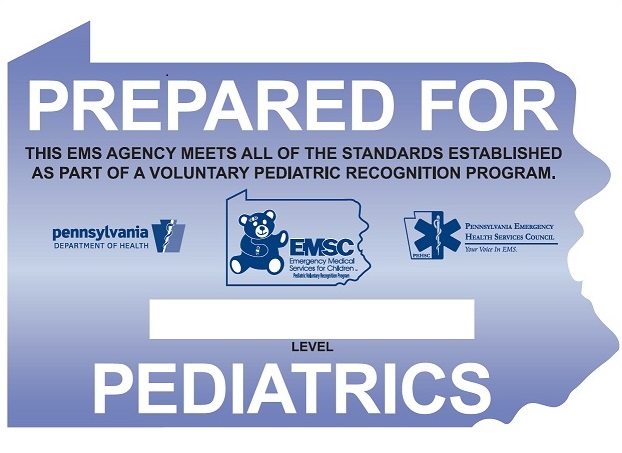 ---
Code Green Campaign
The Code Green Campaign, aka Code Green, is a first responder oriented mental health advocacy and education organization. Code Green serves all types of first responders, including firefighters, EMTs, paramedics, dispatchers, police, corrections, air medical, and search & rescue. We take our name from combining the color of the mental health awareness ribbon, green, and from the "code alerts" that EMS uses to designate an emergency patient. For example, if someone is having a stroke or heart attack that needs rapid intervention, first responders will tell the hospital the patient is having a "code stroke" or "code STEMI". The idea is that Code Green is calling a code alert on the mental health of first responders. The campaign has two main goals. Our primary goal is raising awareness of the high rates of things like PTSD, depression, anxiety, substance abuse and suicide among first responders. Our secondary goal is providing education for responders on how to provide care for themselves and recognize issues in their peers. We also work towards educating first responders about reducing stress and reducing the stigma along with improving access to mental health care.